Welcome ...
Please take a few minutes to find out how LimeRestoration differs from most other 'restoration builders'.

Restoring a building's efficiency involves understanding what took Millenia to learn but has been eroded in the last century. Time to halt the damage.
Edward Scutt has been attributed an 'expert' in his field (quote from conservation officers in Wiltshire and Hampshire) gained by years of research and experimentation on older structures.
Love them or hate them the Romans knew a thing or two about building.
Completed in 125 AD the Romans built the Pantheon rotunda walls in 4-5 years and another 4-5 years to add the unreinforced concrete dome that remains to this day the largest example in the world. It could perfectly fit a 142 ft diameter sphere within it. The 'concrete' was made from mainly relatively weak lime and volcanic ash combined with clever additional materials and techniques. Yet with all our technological advances in modern concrete, it's superior strength gains would not be suitable nor last.
If you are lucky enough to own your own villa, the original humble wall maker knew far more about old building design than given credit- acquiring simple skills passed down by past generations. Subsequently these walls may have been subjected to the wrong materials (Naturally Hydraulic Lime based products, cement based renders, inappropriate pointing, waterproofing and tanking, impervious paints and linings etc) with rare consideration given to what it does to the living environment within. All done without proper consideration for how the walls were built or understanding of how they can work properly if kept breathing efficiently.
Employing Edward will give you a chance to maintain or restore the building design. He won't roll up in a fancy car, give you the hard sell, then hand the job on to less attentive co-workers. Edward will remain the main expert on site, doing the skilled work himself. He will ensure that no short cuts are taken, the promised job is carried out with enthusiam, passion, within budget and on time.
Thank you for demonstrating your proper interest - read on 'countrymen and countrylasses' to hopefully gain a few more pointers .....
Restoring Cob and Lime structures since 1999
Edward has been working with cob and pure limes, internally and externally since 1999 when he purchased a badly neglected cob cottage. It had a partial roof, extensive rot, cement render and dry lining trapping moisture in the walls and destroying the original lime plaster. This made the walls excessively damp and susceptible to collapse as well as reversing the intended moisture paths. He has since gone on to professionally help many home owners bring the character and charm back to their original design whilst restoring another 16th C cob and timber framed home.
Impervious Sands rarely used
The importance of using the right porous materials and techniques to replicate with your traditional wall materials are discussed in the 'Why' lime section. Sand was not traditionally used yet is found in readymixed Hydraulic lime products with setting additives and it will hinder not pull moisture out of the walls.
Specialist knowledge and techniques
To further his understanding and skills Edward attended Master Craftsmen classes (at West Dean College) in the use of limes in restoration work. It was on one of the courses that a course lecturer introduded the use of sprayers to simulate harling material up onto walls. Whilst easier and more efficient Edward discovered it can also be used to accurately preserve features lost by hand troweling - see the inside and outside case studies sections for how this could offer a unique repair solution for your period property to deal with past damage eg spalled bricks. It also provides a better mechanical key for building up the layers quickly (using nature to set it not additives) and ensures even compaction whatever the layer thicknesses.
| | | |
| --- | --- | --- |
| | | Of course he still uses hand tools extensively in the finishing process to produce the desired effect. |
Works carried out professionally for local clients around Salisbury and Wiltshire and Hampshire since have been: porous lime plastering, lime rendering, spalling stone and brick repair, cob repair, Flint / brick and stone pointing (traditional lime mortar with gritstone), wall capping repairs, and stonework repair.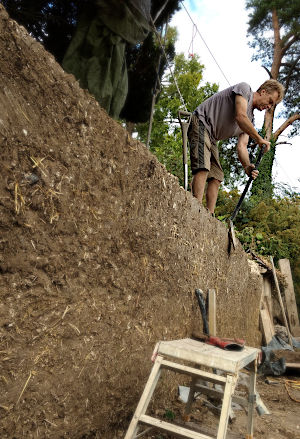 Edward will always be on site carrying out the works so you can be rest assured every aspect is assesed as the project progresses and the appropriate repairs are always undertaken. As he is not VAT registered, and doesn't have the large overheads of running a building firm, you will only be paying for his time and knowledge.
Hands on tuition can also be offered to home owners should they wish to get a better understanding of looking after old buildings themselves for smaller repairs. This ideally best done at your own property so you learn exactly how to tackle individual issues.
Case studies of traditional lime pointing, porous lime plaster work and lime putty render work can be found within 'Inside' and 'Outside' section buttons above.